Peace Productions Presents: Fatality / Spidervayne / Mercury Rising
Fatality + Spidervayne + Mercury Rising UK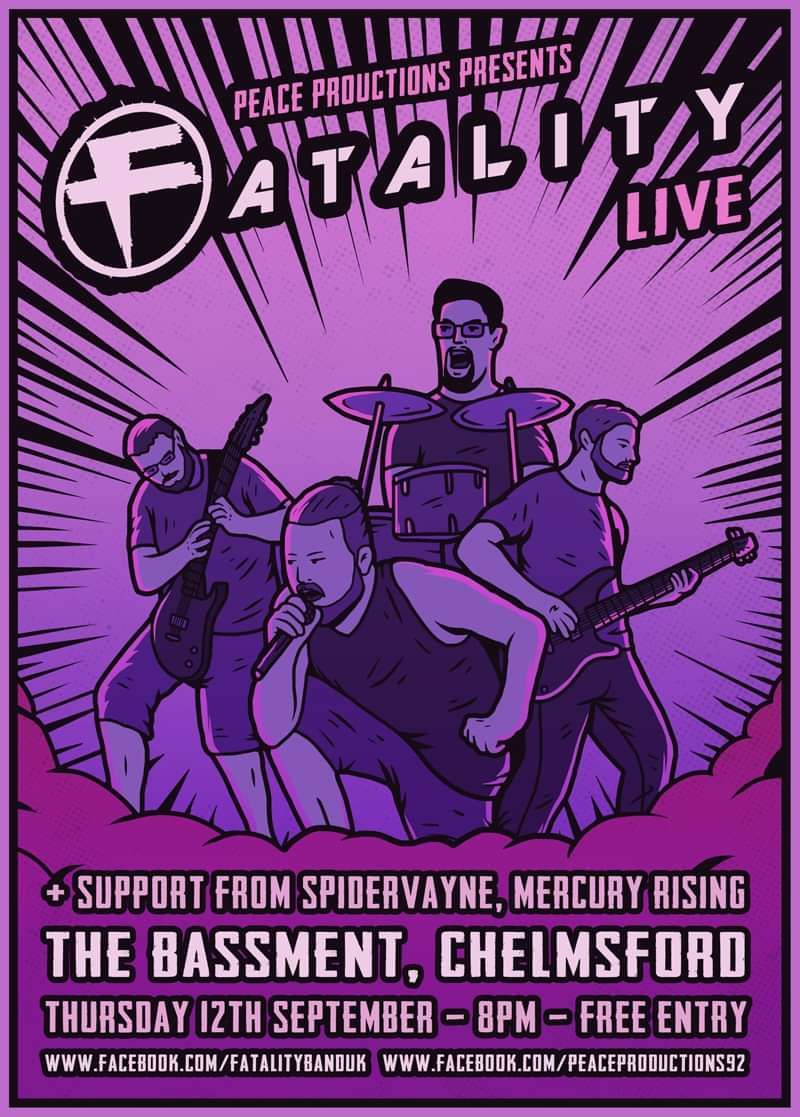 Fatality LIVE at the Bassment, Chelmsford performing their new EP 'Prey' in its entirety.
SUPPORT
Spidervayne A grunge infused metal band hailing from Essex.
Mercury Rising With a rapidly increasing following and a reputation for extremely energetic and exciting performances, Mercury Rising are quickly becoming a driving force in a new era of Hard Rock. Taking influence from bands such as Mr Big, Extreme, Judas Priest and Van Halen, the band have crafted their own branded sound within the genre which is easily recognisable and solid in delivery. Mercury Rising were formed in 2012, where the lineup was comprised of Matt Burgess (Drums, 2012-2017), Rob Raymond (Guitar, 2012-Present), Joseph Smith (Bass, 2012-2016) and Jim McVeigh (Vocals, 2012 - 2014). As this lineup the sound was still being decided on and the vibe was very much Punk meets Glam, this can be heard on 2013's Self Titled EP. After this EP the band were joined by Olly Hills (Guitar, 2013 - 2015) who features on the song "One Shot" from the "Bad News" EP. During this time, Jim has left the band and the search was on for a new singer. Long time friend of Matt and Rob's, Max Campbell (Vocals/Guitars, 2014- Present) was drafted in after his previous project, Subjugation, came to an end. Max fitted in seamlessly and left a mark on the sound, leading to the release of "One Shot" (2015) as a single and "Bad News" (2016) as an EP. In 2015, due to some internal conflict, Olly Hills left the band and 3 tracks from Bad News were recorded without a second guitar, with all rhythm tracks being played by Rob.
Thursday 12th September Doors 8:00pm Free Entry 18+, please bring ID