Dingus Khan LIVE at Bassment
Dingus Khan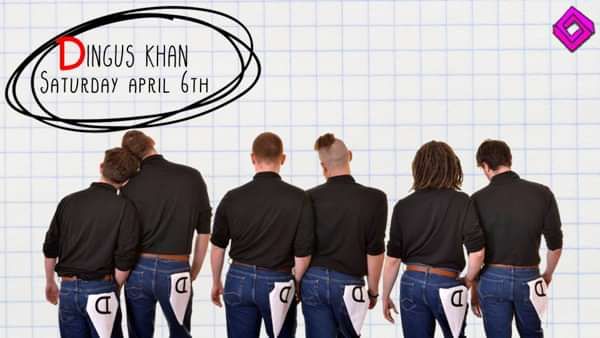 Get ready for a night of debauched rock shenanigans from the legendary DINGUS KHAN! Insanely catchy songs coupled with a unique stage performance that is not to be missed!
If you aren't familiar with their quirky vibe, there's a rabbit hole on YouTube to fall down starting here: Dingus Khan
Support TBA
Tickets £5 advance / £7 on the door / £5 on the door after the bands
Line Up
Dingus Khan are best described as a band. Two drummers, two bass players and an electric ukulele wizard are led by this century's most charismatic and grotesque guitarist/frontman. They all wear white and sometimes perform choreographed dance routines. Equal measures of rage, discomfort and euphoria are distilled into bone-crushingly heavy rock n' roll wrapped in melodic pop sensibilities; walls of feedback crash against intricate rhythms and pounding bass lines whilst somehow retaining a certain harmonious sheen. Genre defying to say the least.
Their debut album 'Support Mistley Swans' was released on Fierce Panda in 2012 to critical acclaim - hailed by Mary Ann Hobs (XFM) as a 'game changer' and praised by Art Rocker for "not so much breaking the mould as using post- modern theory to deconstruct it and remake in their own image." The record led to Maida Vale sessions for Steve Lammac, slots at major UK festivals such as Reading + Leeds, Bestival and Latitude - the bands set at the latter was described as "a masterclass in how to perform at a festival" by BBC introducing.
Sophomore album 'Dunce-Kap' is best described as two parts punk-rock one part sea shanty. The records life began back in 2014: whilst backstage at the London date of a tour with Wolf Alice, Dingus Khan were introduced to Transgressive producer David Pye (Wild Beasts, Faithless, Teenage Fanclub). After watching their set he declared the band 'saviours of punk rock' and convinced them to record a stand-alone single at his studio. The result was 'Milk of Every Mammal', a prog-punk-rock odyssey released on Antigen Records in the summer of 2015. The band were so pleased with the result that they sought Pye's collaboration for their whole second album - throughout the next 12 months they spent their time together inside a vast studio based in the shell of an 18th century mill. This space can be felt on each recording: the sound of two drum kits playing in unison bounce off the stone walls, two bass players weave low frequencies together amongst the timber rafters and impossibly high ceilings, the electric ukelele bursts like a firework whilst Ben Browns impossibly catchy fuzz laden guitar steers the whole thing to its purpose and destination. Six voices shout, scream and harmonise. This is the sonic result of best friends having the time of their lives.
Solid, intelligent and innovative song writing: from the technicolor march of 'Baby I've Been Waiting', the cut-throat Punk of 'My Number', 'Hiyawayhays' anthemic confidence and the introspective melancholy of 'Keel Over'. 'Dunce-Kap' is one of the most highly anticipated indie follow ups of recent times.
View Profile