RUBBER SOUL: DR. BOB JONES
DR. BOB JONES (DJ SET)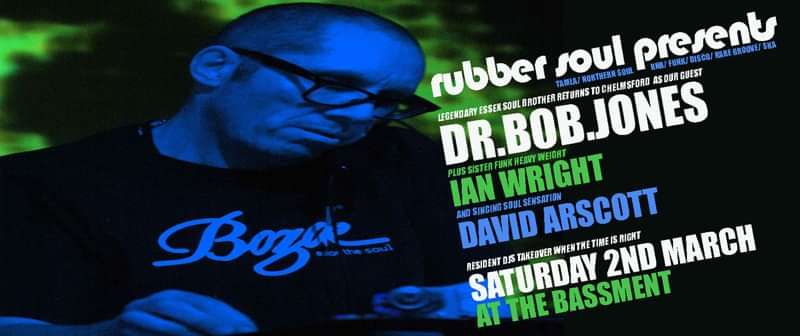 Dr Bob Jones career began in the 60's, with roots in British jazz and his reputation for presenting quality black music has taken him to club nights across the globe for over 50 years. He saw the rise of the UK Soul All- dayers and was there at the start of the house scene in London.
As a radio presenter, he's taken his award-winning Surgery to numerous radio stations including 8 years for Kiss FM and 6 years for BBC Radio London.
Bob has produced and remixed over 30 artists including The Temptations, Terry Callier and Al Green. He was A&R for Chilli Funk Records and had his own Black on Black and Quick Release Record labels and continues to be an avid aficionado of Black Music across the planet.
Ian Wright and David Arscott are very proud to welcome a Chelmsford legend back home, to Rubber Soul. Our music rolls from 8pm to 12pm
The Bassment residents tear it up after us Til 4am. We strongly recommend you get your tickets now!
8pm - 4am £5 adv, £7 otd for Rubber Soul + Indie Clubnight £5 otd from 11pm for Indie Clubnight Only
18+