THE SKAFONICS (MOD / SKA SPECIAL)!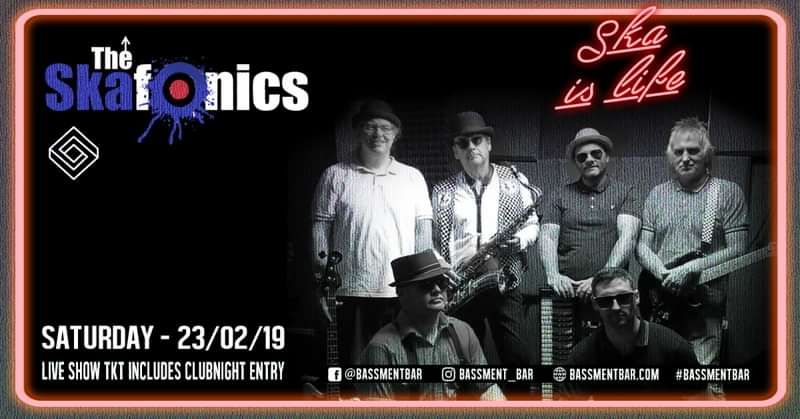 We are the Mods, We are the Mods! A feast of all things Mod and Ska, brought to you in blistering style by the mighty The Skafonics!
Get your stomp on to a heady mix of originals and covers from the likes of: The Specials / Bad Manners / Madness / The Selecter / Toots and the Maytals / Desmond Dekker / UB40 / The Kinks / The Lambrettas / The Kingsmen and more!
*** LIVE SHOW 8PM - 11PM ***
After the live show, Bassment residents hit you right between the hips with some timeless dancefloor bangers!
PRINCE // BOWIE // BOB MARLEY // RUN DMC // NIRVANA // BLUR // OASIS // JAMES BROWN // BLONDIE // KENDRICK LAMAR // DON BROCO // DR DRE // MADNESS // THE JAM // BLINK-182 // HOUSE OF PAIN // CHIC // FOO FIGHTERS // QUEEN // QOTSA // FALL OUT BOY // IGGY POP // THE RED HOT CHILLI PEPPERS // SOUNDGARDEN // THE KILLERS // BLACKSTREET // BUSTA RHYMES // THE STROKES // AC/DC // GREEN DAY //MICHAEL JACKSON // RAGE AGAINST THE MACHINE // ARCTIC MONKEYS
8pm - 4am £5 adv tkts, £7 otd (live show + clubnight)
£5 otd from 11pm (clubnight only)
18+