BASSMENT FRIDAYS: FREE ENTRY AND HALF PRICE DRINKS B4 11PM!
INDIE VS HIP-HOP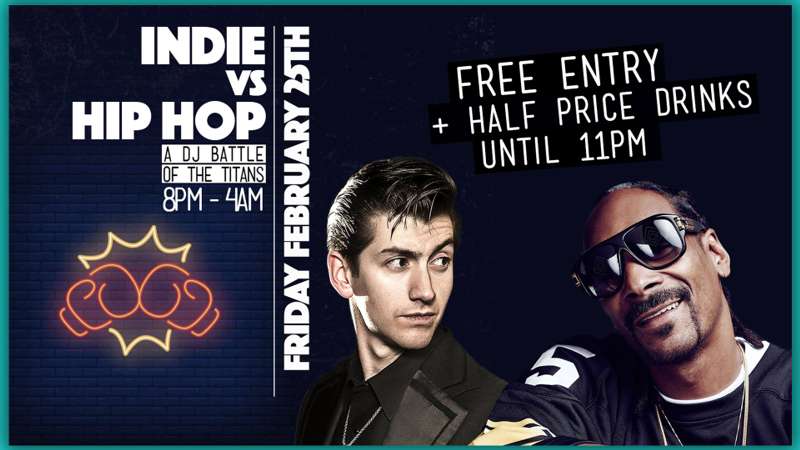 INDIE VS HIP-HOP! - FREE ENTRY & HALF PRICE DRINKS BEFORE 11:00PM
A heavyweight battle between friendly rival DJs sees two staple diets of a night out at Bassment go head to head. Massive, singalong Indie Anthems face the head bopping, bass heavy sounds from your favourite legends of Hip-Hop, there can only be one winner!
Arctic Monkeys ⋄ Dr. Dre ⋄ Blur ⋄ Run DMC ⋄ The Killers ⋄ The Notorious B.I.G. ⋄ The Strokes ⋄ Busta Rhymes ⋄ Oasis ⋄ Kendrick Lamar ⋄ The Wombats ⋄ Tupac Shakur ⋄ The White Stripes ⋄ House Of Pain ⋄ The Libertines ⋄ Cypress Hill ⋄ The Stone Roses ⋄ 50 Cent ⋄ The Smiths ⋄ Drake ⋄ Pulp ⋄ Public Enemy ⋄ The Verve
8pm - 4am FREE ENTRY & HALF PRICE DRINKS BEFORE 11PM!! £5 after
18+, last entry 3am