GRUNGE / ROCK SPECIAL WITH PEARL JAM TRIBUTE & MORE!
Foxymophandlemama + Havokira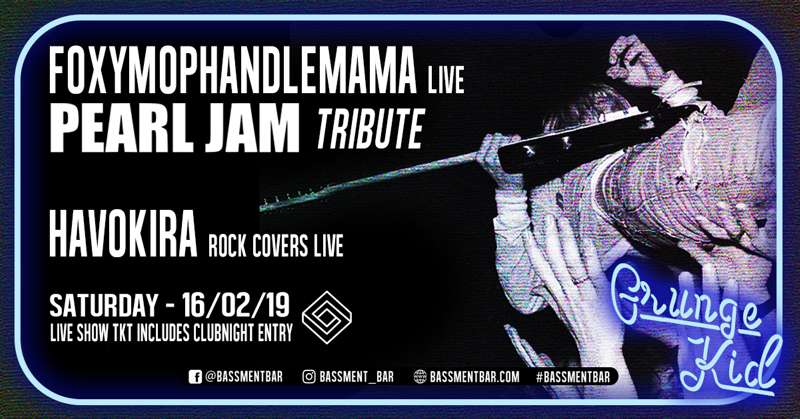 A titan of the 90's grunge scene and a tour de force of a rock covers band battle it out for your hot, moshy pleasure!
Foxymophandlemama (Pearl Jam) Gaining serious rep on the circuit, live covers faithfully reproduced from the Pearl Jam catalogue!
Havokira (Indie / Rock / Grunge / Metal) Havokira are a rock covers band from Essex spanning most decades and styles, tearing through the well known classics as well as the underrated gems! - No One Knows (QUEENS OF THE STONE AGE) - Alive (PEARL JAM) - probably not tonight ;) - She Sells Sanctuary (THE CULT) - Cherub Rock (THE SMASHING PUMPKINS) - Enter Sandman (METALLICA) - Would? (ALICE IN CHAINS) - Paint It Black (THE ROLLING STONES) - Sweet Home Alabama (LYNYRD SKYNYRD) - Break On Through (THE DOORS) - Killing In The Name (RAGE AGAINST THE MACHINE) - Californication (RED HOT CHILLI PEPPERS) - Everything About You (UGLY KID JOE) - I Alone (LIVE) - Lucky Man (THE VERVE) - Click Click Boom (SALIVA) - Patience (GUNS 'N ROSES) - Hysteria (MUSE) - Epic (FAITH NO MORE) - In The Meantime (SPACEHOG) - Slither (VELVET REVOLVER) - Crazy Bitch (BUCKCHERRY) - After Dark (TITO & TARANTULA) - In Bloom (NIRVANA) - Butterfly (CRAZY TOWN) - Take A Picture (FILTER) - Hard To Handle (THE BLACK CROWES) - Creep (RADIOHEAD) - Going For Gold (SHED SEVEN) - Good Souls (STARSAILOR) - New Age Girl (DEAD EYE DICK) - Hold Me, Thrill Me, Kiss Me, Kill Me (U2) - Teenage Kicks (THE UNDERTONES) - Deeper Underground (JAMIROQUAI) - Wide Open Space (MANSUN) - The Pretender (FOO FIGHTERS) - It's So Easy (GUNS N' ROSES) - The Riverboat Song (OCEAN COLOUR SCENE)
.........& many more!
** LIVE SHOW 8PM - 11PM **
After the live show, Bassment residents continue the theme with a little bit of Hip-Hop, Disco, Reggae & cool Pop dust sprinkled throughout! Prince ⋄ Bowie ⋄ Bob Marley ⋄ Run DMC ⋄ Nirvana ⋄ Blur ⋄ Oasis ⋄ James Brown ⋄ Blondie ⋄ Kendrick Lamar ⋄ Don Broco ⋄ Dr. Dre ⋄ Madness ⋄ The Jam ⋄ Blink-182 ⋄ House Of Pain ⋄ Chic ⋄ Foo Fighters ⋄ Queen ⋄ QOTSA ⋄ Fall Out Boy ⋄ Iggy Pop ⋄ The Red Hot Chilli Peppers ⋄ Soundgarden ⋄ The Killers ⋄ Blackstreet ⋄ Busta Rhymes ⋄ The Strokes ⋄ AC/DC ⋄ Green Day ⋄ Michael Jackson ⋄ Rage Against The Machine ⋄ Arctic Monkeys ⋄ Beastie Boys ⋄ Kasabian ⋄ The White Stripes
8pm - 4am £5 adv, £7 otd (live show + clubnight)
£5 otd after 11pm (clubnight only)
18+
Line Up
Foxymophandlemama
Havokira