BASSMENT FRIDAYS: FREE ENTRY AND HALF PRICE DRINKS B4 11PM!
YOU'RE SO F*****G 90'S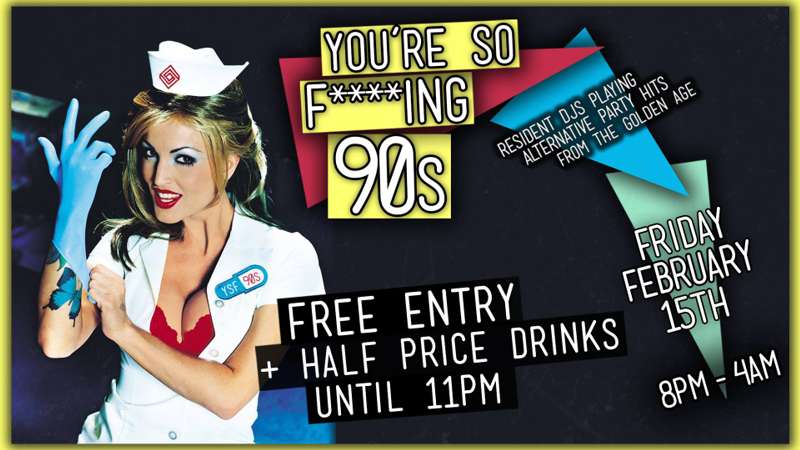 YOU'RE SO F*****G 90'S! - FREE ENTRY & HALF PRICE DRINKS BEFORE 11:00PM
The 90's, the decade of a mish mash of styles, music and culture! Baggy jeans, bright colours and curtains, the birth of madchester and britpop after the second summer of love, the rise of grunge, pop-punk and the golden era of hip-hop. We'll be serving up some serious dancefloor memories tonight!
Prince ⋄ Blink 182 ⋄ Oasis ⋄ Happy Mondays ⋄ Dr Dre ⋄ R.E.M. ⋄ The Smashing Pumkins ⋄ Nirvana ⋄ Green Day ⋄ Soundgarden ⋄ Fugees ⋄ Beastie Boys ⋄ Red Hot Chilli Peppers ⋄ Snoop Dogg ⋄ Blur ⋄ The Notorious B.I.G. ⋄ The Cure ⋄ The Verve ⋄ Wu-Tang Clan ⋄ A Tribe Called Quest ⋄ Public Enemy ⋄ No Doubt ⋄ Vanilla Ice ⋄ House Of Pain ⋄ Beck ⋄ Coolio ⋄ Radiohead ⋄ Missy Elliot ⋄ The Charlatans ⋄ Cornershop ⋄ Fatboy Slim ⋄ EMF
8pm - 4am FREE ENTRY & HALF PRICE DRINKS BEFORE 11PM!! £5 after
18+, last entry 3am