BASSMENT FRIDAYS: FREE ENTRY AND HALF PRICE DRINKS B4 11PM!
ROCK VS POP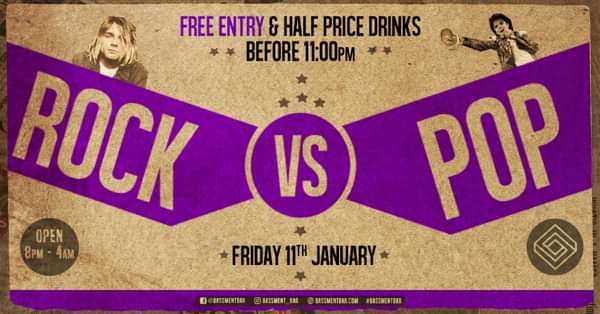 —ROCK VS POP—
Every month is a clash of the musical titan's Rock vs Pop! A heavyweight battle between friendly rival DJs, trading blows and going the distance until the bell rings at 4am!
Huge Rock anthems mix with catchy Pop hooks to make a legendary night to remember!
Now when we say pop, we aren't going to be letting the dogs out or going anywhere near that kennel. Nothing too below the belt here. Just straight up chart-topping, dance floor classics that might have sold a few million copies along the way.
Prince ⋄ Royal Blood ⋄ Bowie ⋄ Queen ⋄ Madonna ⋄ Nirvana ⋄ Michael Jackson ⋄ Blink-182 ⋄ Blackstreet ⋄ Don Broco ⋄ Fleetwood Mac ⋄ Foo Fighters ⋄ Gwen Stefani ⋄ Rage Against The Machine ⋄ MC Hammer ⋄ AC/DC ⋄ Taylor Swift ⋄ Limp Bizkit ⋄ Drake ⋄ Queens Of The Stone Age ⋄ Dolly Parton ⋄ Fall Out Boy
8pm - 4am FREE ENTRY & HALF PRICE DRINKS BEFORE 11PM!! £5 after
18+