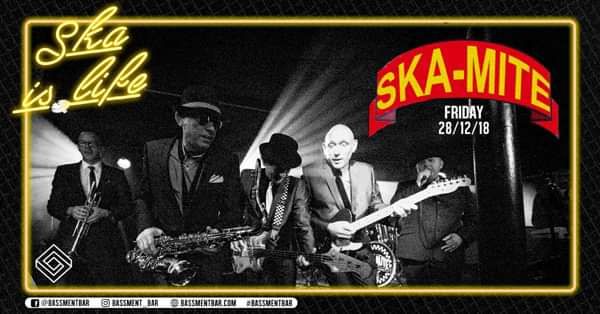 It's an all out, festive assault from the SKA, 2 TONE, REGGAE, NORTHERN SOUL & MOD behemoth that is...SKAMITE!
If you haven't caught them yet, don't delay, tickets selling fast! Let's SKANK!
Skamite As 70s Kids the Two Tone movement had a huge influence on the "Magnificnt Eight". This experienced 8 Piece have a blend of sound that fills the room and makes you want to dance. With SKA-MITE you will taste the different flavours in every tune.
** LIVE SHOW 8PM - 11PM **
After the live show, Bassment residents take control of the decks. You know how we roll...Prince to Bowie, Stones to Marley, Run DMC to Nirvana, Chich to Blur...all the way to 4am!
8PM - 4AM 8pm - 4am £8 ADV TKTS, £10 OTD (Skamite Live + Clubnight) TKTS HERE: http://www.skamite.co.uk/buy-tickets/4593032096 (SELECT BASSMENT...TKTS LIVE SOON)
11pm - 4am £5 otd (Bassment Clubnight Only)
18+, please bring ID