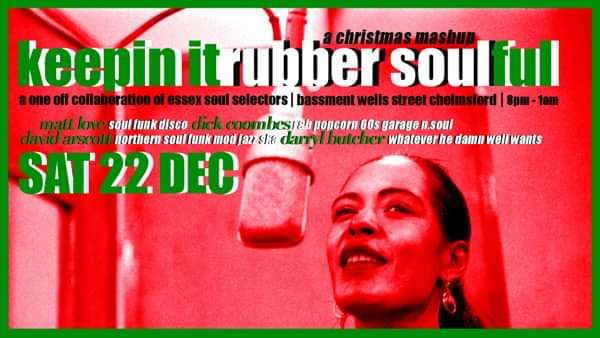 For our last Rubber Soul of the year, Ian Wright is unfortunately away, so we have invited some guests along to contribute to a special one off mash up for Christmas.
Matt Love brings his turntablism reputation from the #KeepinItSoulful imprint, providing a soundtrack of soul, funk and disco, for the second time.
Head and general of the Essex scene to those in the know, Dick Coombes will be guesting for the first time, treating us to r&b, 60s garage, some Northern, popcorn and Maybe even some titty shakers!!
Defying Shazam with his bespoke edits, the man who is second to the throne of the city, Darryl Butcher from #SimplePleasures, plans to mess with your ears by blending Al Jarreau and The Colourfield...probably!
Rubber Soul Lifer David Arscott will smash it up with every beat of his heart with Funk, mod jazz ska & soul ...If he can just pull himself away from gassing that is!
Your Bassment residents pick up the reigns from 1 ish and ride the party into 4am with the sickest biggest alternarive party playlist there is.
Enquire early about tickets on this one A Rubber Soul Saturday night promises to be the hottest ticket before Xmas eve.
Xxx
8pm - 4am £4 ADV, £5 OTD
18+