EMJAY SESSIONS
Morrissey & Marshall + Indigo Face + Joe Anderton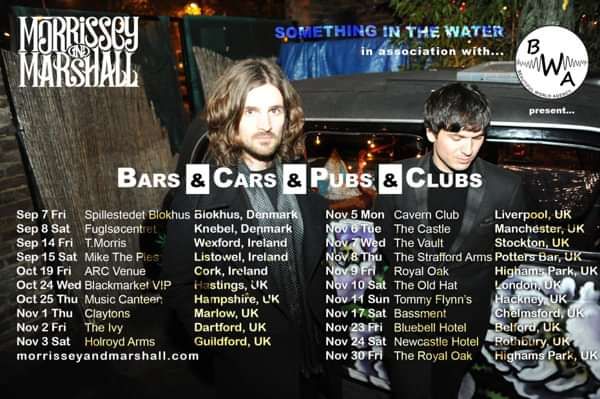 MORRISSEY & MARSHALL Ireland's Finest, Darren Morrissey and Greg Marshall make an overdue return to The Bassment. Morrissey & Marshall, based in London, have spent the majority of their time in the capital honing and harnessing a range of classic musical influences to produce a live act of timeless pop-rock appeal. While their debut, "And so it Began" won them plaudits as the finest pair of harmony singers to have emerged on the circuit for decades, Morrissey & Marshall upped their game with a collection of songs to rival those of the very greatest groups. "We Rise" with its raw production and seamless combination of vocal, instrumental and songwriting prowess. Morrissey & Marshall's current release is a special one. Due to the endless debate of whether they are better with a big production and full band behind them, or stripped down to the bare bones with 2 acoustic guitars and two vocals, the Dublin duo released 'We Rise Again... Acoustically' This completely live, stripped back version of their most recent album 'We Rise', was recorded in one day and each track was recorded in one take (mistakes and all). There are also two bonus tracks, including 60's style harmony song 'Sing To You', and an older song (and old favourite) 'One Man Band', a song Darren Morrissey wrote when he was just 15.
INDIGO FACE We live on a cloud With our feet on the ground, We see all the light And the darkness around. 🌓
We are Mary, Max, Ray and Andrea
Our songs are about apocalyptic scenarios, various spiritual tensions of the human being, society in all its inspiring weirdness. We celebrate the darkness as much we celebrate the light.
Our music videos are all a bit weird.
Listen to our songs
Come to our gigs
We speak English, French, Italian and two varieties of Italian dialect.
JOE ANDERTON One of the brightest new talentson the local scene. Joe has a guitar. Joe has soul. Joe invokes the spirit of Springsteen & Dylan. Joe Rocks. Joe is going places!
After the live show, it's strictly classic jams from Prince to Bowie, Grandmaster Flash to Nirvana, Bob Marley to The Stones...right the way through to 4am!
8pm - 4am
8pm - 11.30pm £5 adv tkts, £7 otd (Live + Clubnight): https://www.bassmentbar.com/events/1ecdffc0-76dd-0136-e302-063a502a557e
11.30pm - 4am £5 otd (Bassment Clubnight only)
18+
Line Up
www.MorrisseyAndMarshall.com www.Twitter.com/MorandMar www.YouTube.com/MorrisseyandMarshall www.Instagram.com/MorandMar www.Facebook.com/MorrisseyandMarshall
Darren Morrissey and Greg Marshall are the unlikely lads that everyone likes. An Irish duo of no fixed haircut, whose gloriously uplifting harmony folk-pop songs have swept aside all obstacles in their path, they have been compared to such giants of the genre as Simon & Garfunkel and the Everly Brothers. But this wasn't quite what they planned when they started out.
The pair come originally from Dublin, where they achieved local success as part of a five-man, rock & roll band called Deshonos. "I was the lead singer and frontman, doing the wild, Jim Morrison thing," says Morrissey, the one who looks like Jesus. "I was the lead guitarist with the pedalboard, wanting to be like John Squire," says Marshall, the lean, clean-cut man of the two.
They moved to London three years ago on a wing and a prayer, but lost the rest of the band somewhere along the way. "They were going to come, but…" Morrissey shrugs. "Life got in the way." Finding themselves in the capital with no band, but a bunch of songs and a consuming ambition to let people hear them, the pair picked up acoustic guitars and embarked on a manic and sustained assault on the open mic circuit. "Every night we would find an open mic night, and when there wasn't an open mic night we'd go somewhere and busk," Morrissey recalls. One of the more lucrative spots they discovered was outside Barclays Bank in Hampstead where, for a while, their regular Saturday afternoon busking session brought in what amounted to their weekly wage. Over the course of the next two years their music gradually changed to suit their circumstances. Morrissey became an accomplished acoustic guitar strummer while Marshall began singing beautifully-crafted harmony vocal lines. Their new songs not only lent themselves to the duo format, but quickly achieved a surpassing state of seemingly effortless grace. Gradually it dawned on them that, without a fixed band around them, they had stumbled on a musical marriage made in heaven.
They weren't the only ones who thought so. Sean Gannon of the Magic Numbers happened to hear them soundchecking at a competition in a bar in Kilburn and was bowled over. He helped secure their first decent bookings, got them some early press coverage and took them out on tour with the Magic Numbers. A chance meeting with Sinead O'Connor's producer and drummer John Reynolds at a recording session for Kevin Godley's WholeWorldBand app, led to another creative twist in the road. M&M asked Reynolds to record a single for them. Reynolds, more than happy to oblige, jumped straight in and produced and played drums on the whole of their debut album, aptly-titled And So It Began.
The album is a feast of folk melody, pop harmony and lyrical insight. It has an uplifting quality and a gently persistent, spiritual dimension. There is a bustling sense of dynamism and purpose in songs such as "Pack up, Lady" – about the move from Dublin to London - and the first single "I've Got a Plan", a Beatles/McCartney-influenced tune which radiates positivity: "Take a second and think just how easy it is/To smile and make everyone smile". A similarly affirmative message of self-belief runs through "You Are Who You Are" with its final declaration: "You are who you are, the centre the truth/This world is waiting for you."
"I believe that if you're positive about something, you will achieve what you want to do," says Morrissey, who writes the lyrics. "In the last band it was all about me feeling sorry for myself, and people got it to an extent. But people latch on to my lyrics a lot more with these songs. If you are positive you will attract a positive response." Other songs take a more reflective, philosophical turn. "Am I a project, an insect of God or a result of science?" Morrissey sings in "The Past Four Days", a song full of confessional doubts, questions and fears. "In Need of Guidance", a number written during the London riots of 2011, bemoans the lack of leadership and consequent loss of idealism in contemporary society. "Even in music, there's no one saying 'Things can be different'," Morrissey says. "There's no Bob Marley, no John Lennon. But people are still looking for guidance."
Perhaps the most personal song on the album is "High and Low", which fuses a populist, Noel Gallagher-type tune with a folk-blues touch redolent of Turin Brakes. The song is about a "friend's struggle with depression" Morrissey says. In many ways, it has been the hard times that have helped Morrissey & Marshall understand how to make music that makes people feel good. "'Morrissey and Marshall are like old time wandering minstrels," said the BAFTA winning producer and actor Jonny Owen. "They bring a smile with them and play the kind of music that is only born in you." "They are two of the best harmony singers I've ever heard," said Damien Dempsey, whom Morrissey & Marshall have supported on tour in Ireland and England. "Something magical happens when their voices become one. It lifts your heart."
As the word has spread, so the gigs have got better. At the end of last year, the duo supported Sinead O'Connor at the Festival Hall. "If we'd not done the amount of busking and gigs that we have, I don't think we'd have been able to get up and play in the Festival Hall," Marshall says. "We came here to serve an apprenticeship. We never ever turned down a gig. I think we've played some of the worst gigs known to man. And we've lived off beans on toast for weeks. We don't mind. Sometimes, the harder it gets, the more determined you are to carry on."
View Profile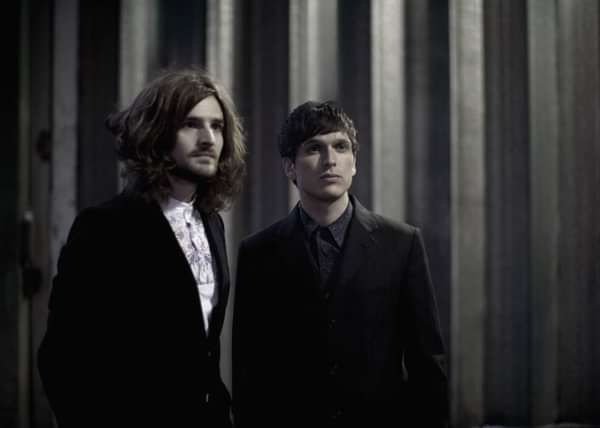 London based 4-piece band, Indigo Face, was formed in 2014. Born out of late night jam sessions, conversa- tions about parallel universes and a wealth of experience gigging on the London Pop scene. Members of Indigo Face, Mariachiara Terragin (lead vocals), Max Obadia (keyboards/guitar/production), Raymond Tognola (bass) and Andrea Rapisarda (drums), have created a sound that weaves together influences from Pop, Funk, EDM, Synth Pop, drawing on elements from their collective experience. Their last EP "At The Gate" has been recognized by Music Week, Pop Matters, Music Times, Amazing Radio and more. Their music throws out highly captivating electronic beats and extremely compelling riffs. Yet, beneath the airy vocals and quirky nature of their songs, Indigo Face challenge the status quo, embedding serious messages in their songs that penetrate environmental and social issues. The songs take the listener upon a journey through the state of our planet and on intimate reflections of the human being, but never failing to make you dance.
View Profile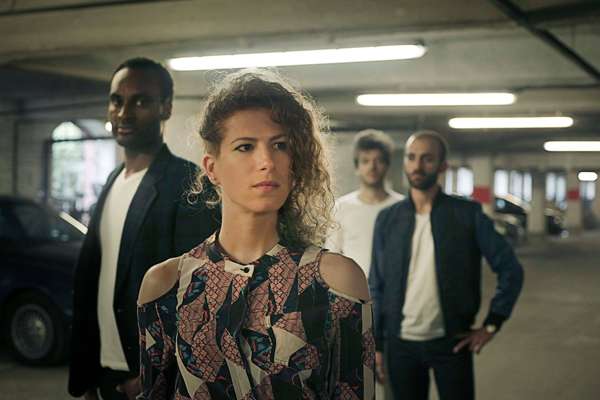 Joe Anderton