SUBLIME ACOUSTICS WITH
Minnie Birch + Entertainment for the Braindead + We Are All Fossils + Katy Forkings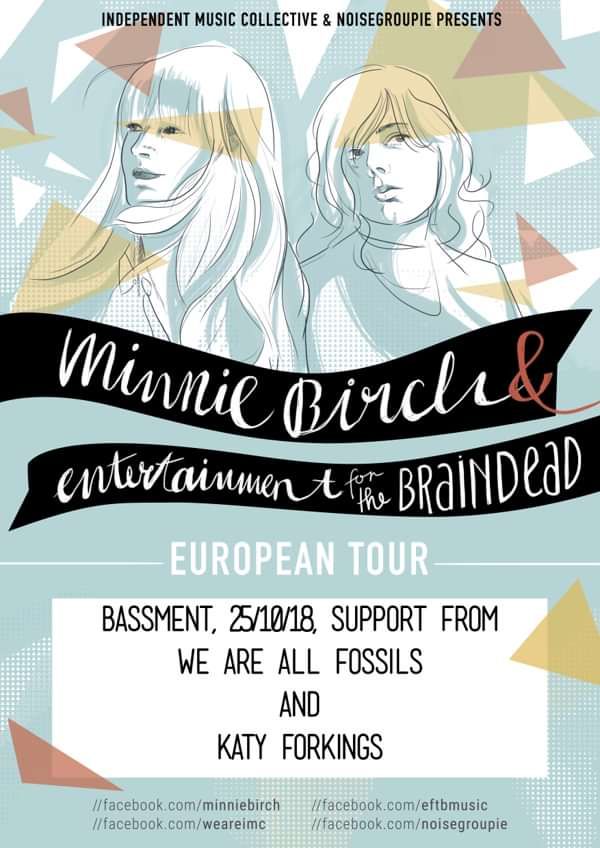 A night of sublime acoustics, with...
Minnie Birch Minnie writes dark, plaintive, beautiful music about life, love, adventures and fairy tales. Following slots supporting Joan Armatrading and a stint at Edinburgh fringe, Minnie has been wooing audiences all over with tours in Iceland, America, Europe and across the U.K. Her debut album received national airplay on BBC Radio 2, BBC 6 music and on BBC Radio 1 as Huw Stephen's Introducing artist of the week.
WATCH: 'Floundering' (in session) - https://www.youtube.com/watch?v=WrFjs9A6910 LISTEN: 'John Barleycorn' - https://minniebirch.bandcamp.com/album/john-barleycorn-emeralds-aa-single-2
Entertainment for the Braindead Entertainment for the Braindead is the solo project of Berlin based singer and multi-instrumentalist Julia Kotowski. Despite the brutal name, she dedicates herself to creating mostly very quiet sounds, weaving the noises of small instruments, field recordings and delicate vocal arrangements into introvert folk songs. On stage she weaves soft synths into layered guitar loops and velveteen choirs of her own voice, and knows the magic spells to make a noisy room fall silent.
WATCH: Sun (Live) - https://www.youtube.com/watch?v=LbEjhZaN6rw LISTEN: 'Sun' album - https://eftb.bandcamp.com/album/sun
We Are All Fossils South African born singer songwriter, Jakob Deist Oelofse, is inspired by the likes of Gregory Alan Isakov, Nathaniel Rateliff, Damien Rice & Sufjan Stevens and these influences shine through with his own, warm tones at the fore.
WATCH: Honey Drop - https://www.youtube.com/watch?v=-sEaRrAzP6E
Katy Forkings Taking influence from the likes of John Mayer, Taylor Swift and The Beatles, Katy is an 18 year old singer songwriter with a pop/country/folk sound that belies her years.
8pm - 11.30pm £3 ADV TKTS HERE: https://www.bassmentbar.com/events/5dced470-8ea1-0136-dfdf-5ee2196498c6 £5 OTD
18+
Line Up
Minnie Birch Buzzfeed's 'one to watch' released her follow up to her "disturbing masterpiece" of a debut album with 'Tethered' out on November 13th 2017. It has received great reviews and her single 'Sangatte' was nominated as Fatea song of the year.
Minnie Birch is based in Hertfordshire (UK) She creates achingly honest and beautiful music about love, loss, life and fairy tales. She has just released her second album 'Tethered'
Minnie has been performing solo since 2011. As a solo artist she has released 1 EP and 2 Albums, her first EP was recorded by award winning producer George Shilling after her song 'Sea Shanty' won her the opportunity to record in his studio. Her first album was well with her single Glitter being made Huw Stephen's introducing track of the week and the album received airplay on BBC Radio 1, Radio 2 and BBC6 music. And won her the Laurel Canyon New Artist Music Award.
She has toured relentlessly with stints all over the U.K, Europe, Iceland and America - including slots at the Edinburgh Fringe and supporting Joan Armatrading
Minnie is currently working as a musician in residence in a male prison, using music to help people develop their confidence, team work ethic and find ways of expressing themselves.
The new album 'Tethered' was produced by Lauren Deakin-Davies (NMG producer of the year) and delves further into instrumentation than her debut creating an epic soundscape but maintaining Minnie's trademark use for space and silence in a song.
She is also 1/10th of Folk Super Group The Company of Players- a newly formed group featuring artists such as Sam Kelly, Lukas Drinkwater and Kelly Oliver - they write songs about and inspired by the life and works of Shakespeare. Their debut album is receiving rave reviews and Minnie's penned 'UP and Down' was played on the BBC Radio 2 Folk Show.
View Profile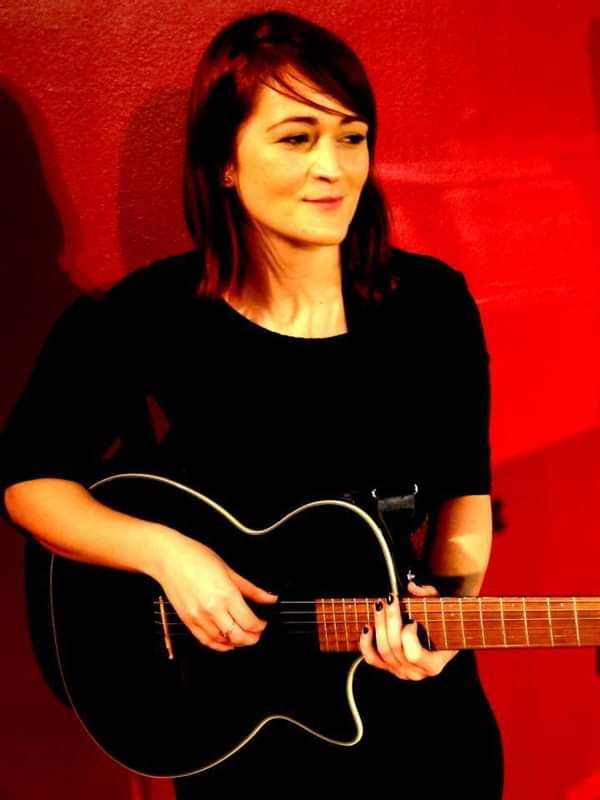 Entertainment for the Braindead
We Are All Fossils
Katy Forkings