IT CAME FROM THE NOUGHTIES
The Lemoncurd Kids + Mandeville + Ghostwood Shanks + The White Gospel + Jez Kemp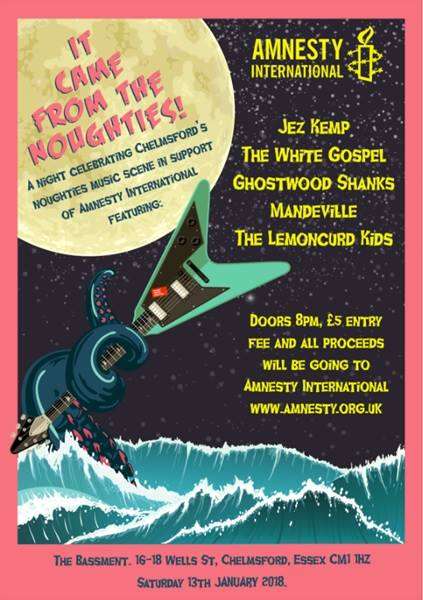 An evening of celebration for the Chelmsford music scene of the 00's in benefit of Amnesty International. Compared by local music impresario Andy Poole and featuring 5 great acts.
The posters for this event have been designed by the brilliant Bright Lights Creative who have gone above to create these beauties. Please go and check out their other work: https://m.facebook.com/BrightLightsCreative/
Warning! The following descriptions will make you feel incredibly nostalgic!
Jez Kemp: https://www.facebook.com/jezkemp/?fref=ts
Idea's generator and punk rock legend Jez began his musical career in Liquid Idolater before moving to New Zealand, coming back again to form F451 and then back to New Zealand again to live out the 00's in style. Towards the end of the decade he continued to make music (in a much more pleasant climate) and created the YouTube sensation "I Believe In Dinosaurs". Now back in the UK he will be bringing a politically charged punk edge to the evening.
The White Gospel: https://www.facebook.com/TheWhiteGospel/?fref=ts
Tender Epic Music is guaranteed from these Chelmsford mainstays. During the 00's they played a pivotal role by showing you could still create a sense of epic scale, be professional and not betray the ethics that punk rock has enshrined in us all. Lead signer Dave Ascot was also an early contributor to Panic Magazine. Their latest album entitled "The Birth Place of Radio" was released last year.
Ghostwood Shanks: https://www.facebook.com/ghostwoodshanks/?fref=ts
Formed in 2005 by Paul Dale, The Shanks' sound evolved from lo-fi indie pop to something entirely different which for a lack of better label we'll call "music". The band members all played their part in Chelmsford's 00's scene by serving time in bands including: Foot in Mouth, Traffic to Nowhere, Reflections of Elephants, Halo Mobilo and Beanstalk. Currently the band consists of the original line up of Paul, Kat Howchen, Tim Hobart and Steve Couldrey with the addition Venkman drummer Stuart Sale. Expect dinos, Godzilla and a fair heap of post modernism.
Mandeville: https://www.facebook.com/mandevilleuk/?fref=ts
The youngest of the 00's crew and just getting in there in 2009, their roots however are very much imbedded in Chelmsford's 00's scene. With members coming from Coping with Crisis, The Not Quite Stripes and Closure, upon the completion of degrees and collage course they set about playing gloriously fuzzy garage rock and haven't stopped since. Killer blood harmonies delivered by the Lewis Brothers are underpinned by the thundering beat of Caroline Lewis and further augmented by the skilled fretboard work of Matthew Wilkinson. They recent were nominated for an award only narrowly losing out to people that created the advert for the latest Star War film.
The Lemoncurd Kids: https://www.facebook.com/lemoncurdkids/?fref=ts
With half the band coming from Halo Mobilo and the other half coming from The Library Suites and Squeal you could say that The Lemoncurd Kids are the ultimate 00's group. You would be correct and that's why they are headlining. Not content with that crown this band is also certified band of the past 10 years by public consensus in the 2017 Panic Awards. Their heartfelt anthemic music will move and grove you in equal measures.
Andy Poole (compare)
Back in the noughties he was the promoter at The Bay Horse and put many all of these find acts on in one guise or another. Andy has an extensive knowledge of the local music scene and was also one of the founders of Panic Magazine. You might also recognise him from a certain local awards show.
All money will go towards Amnesty International and you can see their great work here: https://www.amnesty.org.uk/
After the live show, Bassment residents take control of the decks. You know how we roll...Prince to Bowie, Stones to Marley, Run DMC to Nirvana, Chic to Blur...all the way to 4am
8pm - 4am £5 entry
18+, please bring ID
Line Up
The Lemoncurd Kids
Essex based Mandeville play full volume garage rock, pumping out a high dosage of ear worm worthy riffs. The band can often be heard echoing in the walls of grubby music venues throughout the UK.
Check out recently released Double Denim EP on Spotify now:
View Profile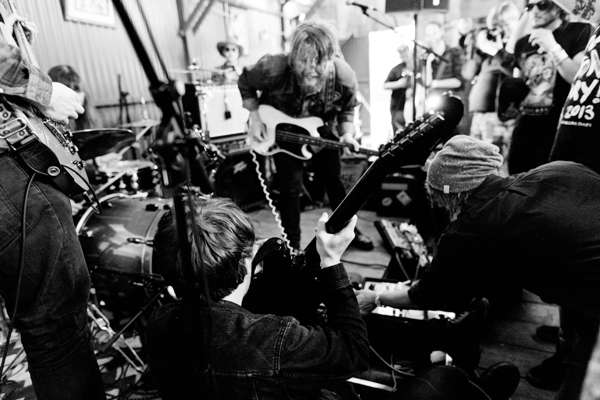 Ghostwood Shanks
The White Gospel
Jez Kemp